A Leg to Stand On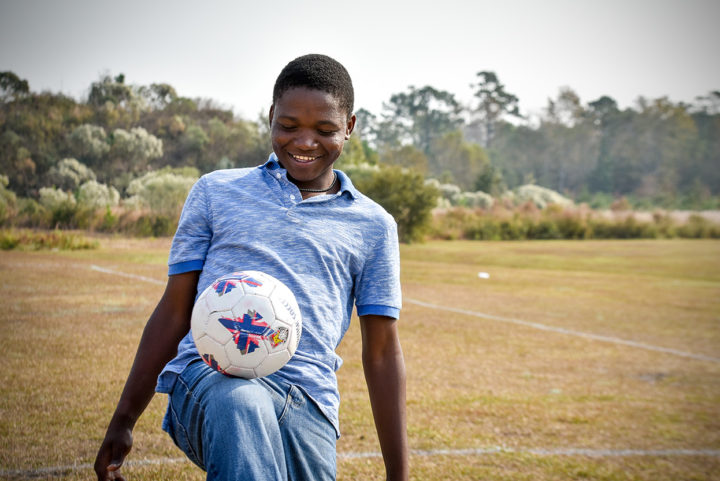 Nine-year-old Brian Wasonga scraped his knee while playing soccer on his way home from school in Sanjwera, Kenya. The scrape became infected and, with little access to health care or even clean water to clean the wound, developed into a severe bone infection called osteomyelitis.
When Touching Lives Ministry out of Pennsylvania met Brian (then 14) he had been living with pain from the infection for nearly five years. He was at risk of losing his leg and possibly his life. Brian had already endured two blood transfusions due to anemia, several rounds of antibiotic treatment and three surgeries. His Kenyan medical team had told his parents that they had exhausted the medical resources available in Kenya to save his leg.
The ministry set out to help Brian by raising funds for him to come to the US for treatment and a Myrtle Beach family stepped up to support him during his surgeries and recovery. He first arrived in South Carolina on Nov. 12, 2015, and underwent surgery just eight days later. On New Years Eve, 2015, Brian first met one of the doctors responsible for helping the teen recover from the infection, Dr. Michael K. Foxworth II.
"Chronic bone infections must be treated for months to years depending on severity of the infection."
-Michael K. Foxworth II, MD
Dr. Foxworth, a pediatric infectious diseases doctor at the HopeHealth Medical Plaza in Florence, is one of just a handful of such specialists in South Carolina. These specialists treat a wide range of complicated or atypical infectious and immunologic diseases such as those caused by viruses, bacteria, fungi, and parasites.  They recognize the unique signs, symptoms, treatments, and outcomes associated with infectious diseases in children and adolescents, which can be very different from those of adults with the same infections.
Dr. Foxworth developed an antimicrobial plan of treatment based on the specific bacteria causing the infection, the resistance patterns of that bacteria, and the types of surgeries that Brian had undergone. This initially involved IV therapy, later switching to oral antibiotics, and monitoring response to treatment and potential toxicities of the treatment. He said that such chronic bone infections must be treated for months to years.. For Brian, now 18, the surgeries and ongoing treatment means he still has his leg and is hopeful that the antibiotics will continue to work. He returned to the US on Nov. 10, 2016, for follow up care with Dr. Foxworth in partnership with his orthopedic team of doctors in Myrtle Beach.