Cutting Edge Technology Comes to HopeHealth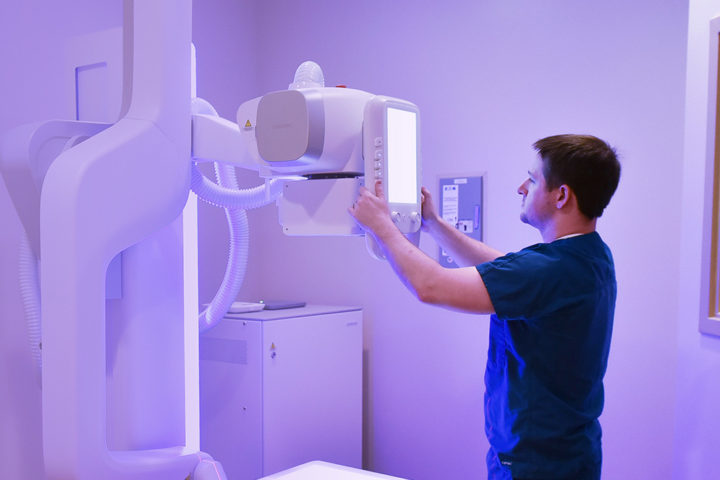 Radiology Services
HopeHealth currently offers radiology services at the Medical Plaza in Florence. Services will soon be expanded with two additional machines that will allow for ultrasounds and live imaging for pain management procedures for HopeHealth Specialty Services.
From X-ray exams to retinal scans, state-of-the-art technologies bolster quality service for Pee Dee patients at HopeHealth facilities; reinforce commitment to excellence.
Excellent service and quality care begins with the people providing services to our patients. The commitment of HopeHealth to such excellence however goes beyond our providers and staff; it also extends to providing the best in cutting-edge technologies to help diagnose and treat those who make HopeHealth their health care home.
HopeHealth incorporated some of the newest technologies available with the opening of the radiology department at the Medical Plaza in Florence in April. Radiology provides HopeHealth patients access to modern equipment for diagnostic X-ray exams through a partnership with McLeod Health. The equipment, the newest Samsung X-Ray machine available, provides detailed X-rays in minutes using the lowest radiation dose available today.
New technologies in other HopeHealth areas include the TRC-N 400 Non-Mydriatic Retinal Camera, or retinal scanner (pictured right). This high resolution color imager takes detailed photos of the retina and the anterior segment of patients' eyes that can be compared with future images to track changes in eye health. Although the retinal scanner is primarily used in the Diabetes & Nutrition Center for annual examinations, the scanner's images can also help our health care providers identify and care for various eye diseases.
The Diabetes & Nutrition Center staff will soon begin taking the retinal scanner on the road to offer diabetes services to patients at other HopeHealth locations.