Service members, Veterans, and their families are important to HopeHealth, and our staff is committed to understanding their needs beyond a typical health care visit.We recognize that service members often face health conditions that may affect employment or healthy living, and we strive to care for those who have served our country selflessly. Veteran liaisons and staff experts are available by appointment to provide assistance with access to services, submitting claims, understanding benefits eligibility, and connecting with resources to improve overall quality of life.
Veterans supporting Veterans
What is a Veteran liaison?
A Veteran liaison is a veteran who understands the unique needs of service members and their families and can help them navigate health care services. This partnership helps veterans to connect with peers who they can relate to. Our liaisons specialize in helping veterans get connected to the local VA, understand benefit eligibility, submit a claim, or file for an appeal, along with many other services both inside and outside of HopeHealth.
Pictured above: Henry Humphries
Henry Humphries served 30 years in the military, including two tours in Vietnam and one in the first Gulf War. He serves as a liaison for Veterans, working with HopeHealth and other community partners to improve their health and well-being.
Events
Veterans with Hope is held on the third Thursday of every month. Veterans and their families are welcome to gather and hear about local resources and upcoming opportunities. Each month the event includes two speakers; one affiliated with HopeHealth, the other representing a community resource from which our veterans could benefit.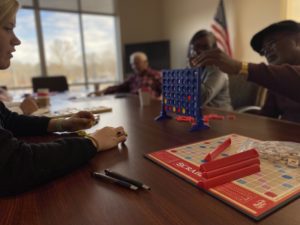 "Cup of Joe with a Joe" coffee hour is held the first Friday of the month with coffee, doughnuts, and board games.
VETERANS ART CONTEST– Each fall, students ages 6-18 are invited to participate in the Thank a Vet art contest to showcase their appreciation. Check for details on our events page beginning mid to late September each year.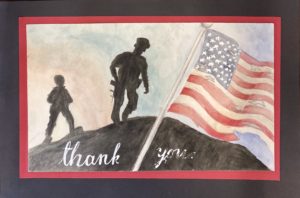 Did you know?
40,056 Veterans are homeless on any given night
1 in 10 homeless people are Veterans
20 Veterans reportedly die by suicide each day
Veterans make up more than 14% of all suicides
In 2017, the VA treated more than a half-million Veterans for drug-related problems
56,000 active duty troops meet the criteria for gambling disorder
360,000 Veterans who served in Iraq and Afghanistan since 2003 suffered from a traumatic brain disorder
Only 50% of returning service members who need mental health treatment seek it
The rate of depression in military members or Veterans is five times higher than of civilians
Veteran Crisis Line: 800-273-8255, press 1
---
Veterans program contact information:
veterans@hope-health.org
360 N. Irby St.
Florence, SC 29501
Tel: (843) 432-2971