Advocating Men's Health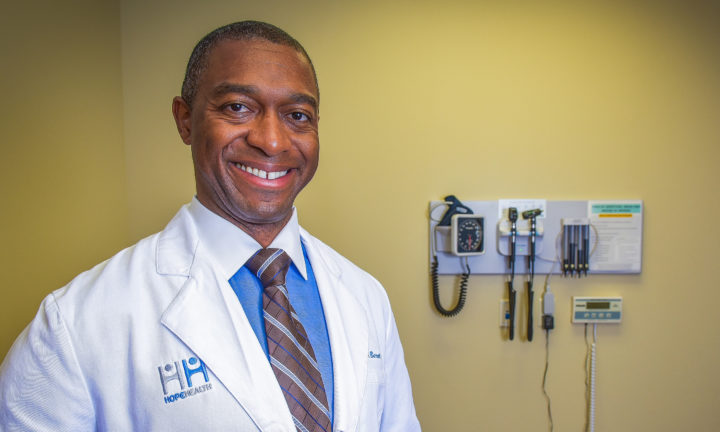 A father, a brother. A youth soccer coach. A physician's assistant, an Air National Guard captain. A man. These are all roles that mold Alan Barrett, a health care provider at the HopeHealth Medical Plaza in Florence.
Barrett earned a masters degree in psychology from The Citadel before deciding to refocus his career in medicine. Inspired by his sister, a provider in the Columbia area, Barrett said he enjoyed his work as a mental health counselor but always knew he wanted to go further and entered the Medical University of South Carolina to pursue a career as a physician assistant.
To successfully juggle his various roles, Barrett keeps his health a priority saying our bodies are no different from motor vehicles that must be taken in for tune-ups every so often. He stays active, visits his own provider regularly, and gets his recommended health screenings.
"If you want to maintain a high-performance car, you have to do the tune-ups and have to take care of it, and then it will perform like you want it to," noted Alan. "When I get my male patients coming in who are 40, 50, 60 years old, the biggest concerns that drive them in are aches and pains and their romantic lives when things are not working so well. But they're not taking care of themselves in such a way that everything should work."
To make sure his own body is running as smoothly as a well-maintained vehicle, Barrett follows an exercise routine that suits his lifestyle. He said finding the routine that suits you is important; some people are go-getters who will, and can, routinely run 5K, 10K and marathon races. Others just want to stay healthy. No matter what exercise level you are, it is most important to just develop an active lifestyle.
Other factors Barrett considers important to maintaining a healthy lifestyle? Keeping a healthy weight, getting six to eight hours of quality sleep, and paying attention to your diet.
"Not paying attention to these factors can mean weight goes up, blood pressure goes up, cholesterol goes up, blood sugar goes up, testosterone goes down, and everything falls apart," he said. "Our chemical pathways need to be balanced, and the best way to keep balanced is through routine and making activity a conscious part of your life every day and every moment."
Staying healthy means paying attention to the little things such as electing for an egg omelet instead of a bowl of cereal that is loaded with sugar, and walking up the stairs instead of using the elevator. The small decisions we make throughout the day add up. By being aware of time management and mindful of those little things goes a long way to improving, as well as maintaining, health.
Barrett's tips on getting, and staying, healthy
Get 6-8 hours of quality sleep

Your day doesn't start when you wake up. It starts when you go to sleep. Overnight your body is still active: your blood sugars are still leveling, your hormones are leveling. If you wake up the wrong way you are already off to a bad start and setting yourself up for failure.

Stay hydrated

Make sure you are drinking a sufficient amount of water and not drinking your calories. Our bodies are made up of more than 60 percent water so giving it what it is made of is important. The calories in soda, sweet tea, and other drinks add up.

Fuel yourself through the day

Make sure you are eating at least three meals per day and including a sufficient amount of protein and fiber in your diet. Most American men don't get enough protein and fiber and consume too many carbohydrates.

Stay active every day

Getting up and moving throughout the day can do as much for you as a session in the gym. Guidelines say we should get 10,000 steps each day so find ways to be active even at the office. Make use of your lunch hour with a short workout in the hallway.

Change your habits

It's hard to make the transition from additive substances like sugar, fat, and nicotine. You have to have at least two to four weeks of conscious effort for it to become easier to grab water, fruits, and vegetables instead of a candy bar and a bag of chips. The longer you are separated from them, the less dependent your body is on them, the easier it becomes, and the more exercise and healthier selections become your habit.

Know it's ok to say "No"

When you're invited out to do things, sometimes it's better to say no and take care of your house and home and yourself.

Schedule your tune up

Visit your primary care provider regularly and get your recommended screenings. Just because you feel healthy and look healthy on the outside, it's important to verify that you are as healthy on the inside. Many issues, such as high cholesterol and hypertension, can be identified through screenings before they have noticeable physical impact on your body.