HopeHealth Hosts Inaugural Cooking Matters Class for Spanish-Speaking Residents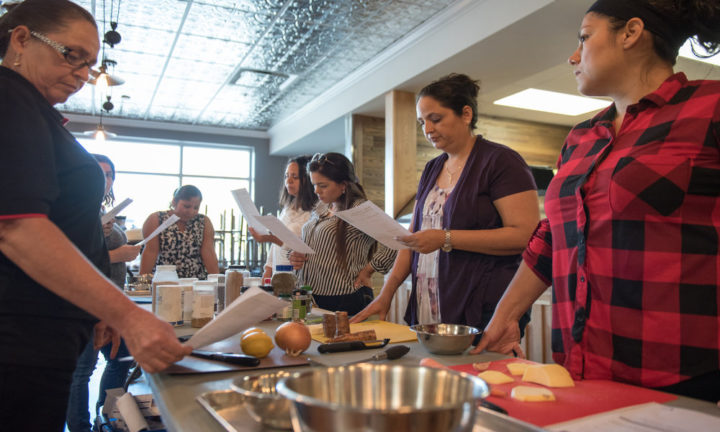 FLORENCE, S.C. (November 15, 2017) – Preparing a meal with friends and family adds a touch of something extra to a dish. Doing so while learning new ways to make a meal more nutritious is a bonus. At HopeHealth, Cooking Matters classes taught by the South Carolina Department of Health and Environmental Control (DHEC) have helped families in the Florence community do this for more than a year.
Language barriers, however, can discourage area residents from taking advantage of such free resources. Recently, HopeHealth teamed up with DHEC instructors to make the class accessible to the Florence area Hispanic community with Spanish interpreters facilitating the cooking sessions at the Medical Plaza in Florence.
From chopping, dicing, and slicing techniques, to budgeting exercises and even a field trip to a local grocery store, the class delivers valuable information about the foods we eat and how to make everyday meals more nutritious during six, weekly, interactive sessions. Topics covered in the course include getting your family excited about healthy eating and purchasing healthy food on a budget.
"The majority of people view their doctor's office as just a place where they go to receive medical care. These classes make HopeHealth a little different," said Eduardo Velazquez, a Latino Services interpreter with HopeHealth. "Here, it's not just about medicine; it's also about learning how to make healthier life choices. You come to a doctor to see where you are with your health, and our providers give you the tools and information you need. This just takes that another step further. It is a fun, learning experience that shows you things you can do for yourself and your family to improve their health through daily lifestyle changes."
Velazquez, who helps patients and their providers understand each other during regular HopeHealth appointments, said such classes help bridge communication barriers and allow patients to take a proactive approach to their health care – especially when it comes to nutrition.
"Even though the meals they create are very, delicious, many dishes contain a lot of cholesterol and grease," he said. "The class teaches how to reinvent a traditional dish such as ceviche using healthier ingredients and cooking techniques and shows how they don't necessarily have to get rid of the foods they like; just change them up a little bit."
Participation in the free Cooking Matters class is hands-on. The students – mothers, fathers, even children – are the chefs and they prepare and cook the provided ingredients to produce a nutritious, budget-friendly meal. After class ends, participants are provided the same ingredients introduced in the lesson to prepare at home. They also receive a guide with more than 60 low-cost, family-friendly recipes to try. For more information on upcoming sessions, contact Sonda Jett-Clair at (843) 432-3717 or sjclair@hope-health.org.
For questions or more information, email scogdill@hope-health.org or call 803-473-8718.