HopeHealth Hosts Legislative Reception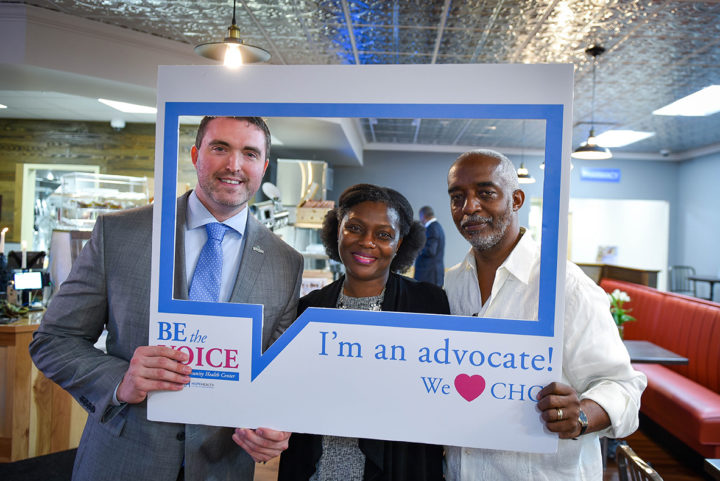 FLORENCE, S.C. (August 11, 2016) – The celebration of National Health Center Week wrapped up at HopeHealth Thursday evening with a legistative reception that recapped the week's activities and highlighted the importance of supporting community health centers.
HopeHealth celebrations included a community cook-out at the Timmonsville location and a week-long advocacy drive to educate staff, clients, and communities about what community health centers are, why they are important, and the need for more invidiuals to join the advocacy network to support their local health centers.
Held in the newly-opened Tracks Café within the HopeHealth Medical Plaza at 360 N. Irby St., Florence, the legislative reception was attended by several representatives including Cezar McKnight, District 101; Phillip Lowe, District 60; and Terry Alexander, District 59; and staff from the congressional offices of both James Clyburn and Tim Rice. In addition, representatives from the South Carolina Primary Health Care Association and civic leaders from several municipalities attended the event.
"Our job is to get out and help make sure our patients our staff, and our communities know – especially this week – what community health centers are and how important they are," said Tiffany Straus, HopeHealth director of community relations. "Every year we do something a little different; last year we went out to all the city and county council meetings and talked to you all there. This year we decided to bring you all here to the Medical Plaza."
Defining community health centers as an out-patient health care practice just like any other doctors' office, Carl Humphries, HopeHealth CEO, said the key difference is that HopeHealth treats anybody that walks through the door regardless of their station in life or ability to pay.
"So we have wealthy customers; people who can choose to go anywhere they want for health care, they have great insurance; business owners, lawyers, doctors and so forth. But we also have folks who come to us without insurance and they are able to receive services from us on a sliding fee scale," said Humphries.
Alexander called it a "safety net for a lot of people in this community."
"If you catch (a health concern) early and on a regular basis, not only are you saving their quality of life, but you are saving monies in the long run, said Alexander. "It also takes a lot off of our hospitals which, in some ways down the road, helps lower costs through keeping a lot of people out of the emergency room where (health care) is very costly and expensive. Here they can come and, for a moderate fee, receive the same services and/or better."
Teresa Ervin, a member of the Florence City Council, said that HopeHealth not only provides the primary care services needed for people to stay healthy, but that they also get to know the staff and become "like friends and family."
"When I look at this center here – with the radiology, the laboratory – you take a client in and give them total care; you have everything here," said Ervin. You feel more comfortable when talking to a health care provider who you feel knows you and cares about you."
"The level of care here knows no distinction," added Rick Morrison, a member of the HopeHealth board of directors. "So the same treatment that is offered to the person that has full coverage is also extended to the person who has no coverage – without compunction, without diminished capacity of personality, attentiveness and wondering how you're going to be when you leave this place. And that's what makes this place family and that's why it is important."
That family-like atmosphere at HopeHealth sites across Florence, Williamsburg and Clarendon Counties was evident during Advocacy Wednesday when staff at each location sported a one-day uniform to "Be The Voice" of community health centers. Throughout the organization, staff – from administrators, to clinicians, to doctors – wore "Be The Voice" T-Shirts to bring awareness to the need for community health center advocates.
Highlights of the day are posted on the HopeHealth Facebook page along with a link to sign up as a community health center advocate. You can sign up today at https://www.facebook.com/hopehealthinc/
HopeHealth is one of 21 nonprofit, federally qualified health centers in South Carolina and provides quality and affordable health care services to individuals in Florence, Clarendon, and Williamsburg Counties.
For questions or more information, email tstraus@hope-health.org or call 843-245-2291.