A Doctor's Suite Vision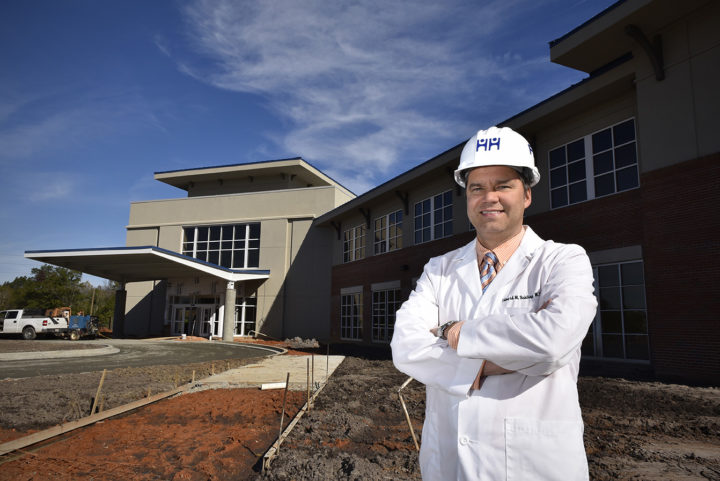 Your Health Begins Here
Your health begins here is the slogan being used to promote HopeHealth's patient-centered community health center opening its doors to patients on February 1, 2016. This event also marks the start of HopeHealth's 25th year in the Pee Dee.
The opening of HopeHealth's new center is the result of years of hard work and collaboration among city and state partners. In 2012, the organization was awarded one of three capital grants awarded to South Carolina health centers by the Department of Health and Human Services. The original grant called for HopeHealth to expand the current location on Palmetto Street. In 2013, Mayor Wukela, along with other influential Florence leaders, approached HopeHealth about the possibility of moving the project to the former Bush Recycling grounds. The City of Florence, Congressman James E. Clyburn, and the Drs. Bruce and Lee Foundation had already made significant contributions toward the cleanup of the property. The City generously offered to donate the property to HopeHealth, and the community health center broke ground in August 2014.
HopeHealth is one of 23 nonprofit, federally qualified health centers in South Carolina and provides quality and affordable health care services to individuals in Florence, Clarendon, and Williamsburg Counties.
 A 'Suite' Vision
A new design concept to enhance patient centered medical care was birthed out of a desire to move away from traditional medical offices with large waiting rooms. Edward Behling, MD, Chief Medical Officer, and the HopeHealth Building Committee wanted a design that was patient-centered, maximized space, and created a small, family practice atmosphere. With the support of Collins and Almers Architectural Firm, Behling and the building committed developed a concept of self-contained suites.
Each suite comfortably hosts two medical providers and their support team of nurses, medical assistants, and front office staff dedicated exclusively to the care of their patients. A dedicated phone number will be designated for each physician in their suite, allowing patients to speak directly with someone they know. The suite design intentionally increases communication between staff and patients, enhancing understanding and trust while also improving efficiency.
"This new facility is just what we need to carry out that dream for the people who matter most – our patients."
-Ed Behling, MD, HopeHealth Chief Medical Officer
Another goal with the design was to create a flow that could improve wait times. The intent is to move patients directly to an exam room as soon as registration is complete. There will be a monitor that plays health education messages in each exam room, and these messages will eventually be tailored to each patient based on demographics such as age, sex, and chronic disease diagnoses.
The nurse or medical assistant will complete the initial assessment, reason for visit, vitals, medication review, updated history, and any standing orders so that when the medical provider comes in, the only task of that provider is to engage with the patient.
With this physical layout, the team is in one location to better carry out the goals of the patient-centered medical home. The central location of the team also enhances both individual patient tracking, as well as population management.
Routine Behavioral Health
New trends in patient-centered health care include integrated behavioral health in the primary care setting. This meets the high demand of behavioral health needs of individuals, while also decreasing the stigma of receiving care at a traditional mental health provider. The new building design will incorporate the availability of a behaviorist in each suite. The medical provider will offer a personal introduction to a behaviorist at the end of the primary care visit. The behaviorist will then perform a routine mental health evaluation. Additional supportive care will be available to patients with behavioral health concerns regarding depression and anxiety and address the social and psychological impact of the patient's diagnosis.  For example, an avid golfer has been diagnosed with a heart condition that prevents him from playing the sport that he loves. A behaviorist will be able to help him cope with that.
Patient-Centered Care
The new suite design will further HopeHealth's goals of providing cutting edge, affordable health care to residents across the Pee Dee, which aligns perfectly with the Patient-Centered Medical Home model of care and the overall mission of community health centers.
"The ultimate goal is to provide a unique and patient-centered experience that will engage patients and empower them to become an active part of their own health care,"  shared Behling. "This new facility is just what we need to carry out that dream for the people who matter most – our patients."
A grand opening celebration is planned for the spring, which will give the community an opportunity to have a clear vision of the new patient experience that will be provided in the new center. For more information about HopeHealth, contact Director of Community Relations Tiffany Straus at tstraus@hope-health.org or 843-667-9414.