Deena Hilton: Building Hope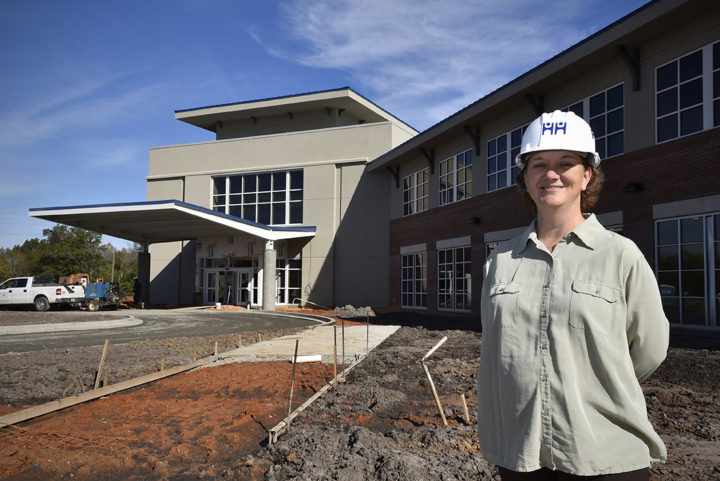 In 2015, HopeHealth made significant strides in expanding the availability of quality, affordable health care to residents across Florence, Williamsburg, and Clarendon Counties. Deena Hilton, HopeHealth's Chief Operating Officer, has stood at the helm of this effort. In a single year, she has led the funding, planning and implementation phases of building projects in Florence, Greeleyville and Kingstree.
To many people, Deena Hilton and HopeHealth are one and the same. Known to some as the Mother of HopeHealth, she has the large task of providing structure to the consistent growth of the organization. If you ask Hilton if she thought she would end up as the Chief Operating Officer one day, she would tell you no. She was simply committed to the patients and staff she served each day.
Looking back, Hilton notes, "I'll never forget our early years. There were only two of us providing case management services. We each saw 40 patients and shared a single computer while working out of a donated office space on Pine Street in Florence. A few years later, our team traveled to Washington, DC and attended our first HIV/AIDS conference. It was the last year they were able to display the AIDS Memorial Quilt. The impact of AIDS was visibly devastating. The quilt stretched from the base of the Capitol to the Washington Monument, basically covering the entire Mall. We came back to serve our patients with renewed vigor."
"Deena Hilton has been with HopeHealth for eighteen years and has been a vital asset to the growth and expansion of our organization."
-Ken Burgess, HopeHealth Chief Performance Officer
In 2016, HopeHealth and communities across South Carolina will reap the fruit of years of Hilton's labor. In Florence, HopeHealth's Medical Plaza, a new 47,889 square foot facility located on Irby Street will open in February 2016. "Our organization has grown at such a rapid rate that we have had to work from as many as six buildings in Florence. The new Medical Plaza will allow us to serve the community from a central location, increasing the efficiency and delivery of patient-centered care services," states Hilton. Our patients in rural settings can also expect building improvements. Renovations to the Greeleyville building are complete. In Kingstree, the existing HopeHealth facility will undergo a major renovation as a result of a $1,000,000 Capacity Expansion grant awarded from HRSA in 2015.
About the Tree
Hilton spent her first few years with the support organization Hope for the Pee Dee as a case manager providing support services for people liv- ing with HIV/AIDS. In the early 90s, the disease was still very new and those infected didn't know where to go for help. Hilton filled that void by helping people get the proper medication and receive the care they needed. This tree was given to Hilton by her very first patient as a symbol of hope and love.