The Importance of Community Health Centers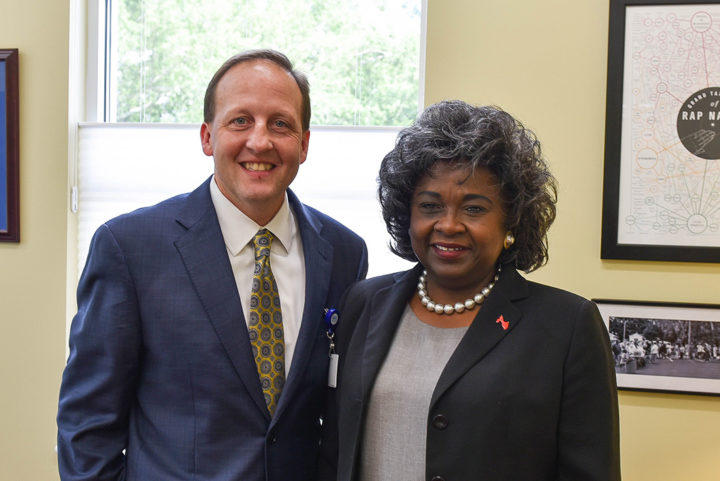 (pictured above) HopeHealth CEO Carl Humphries (left) and Lathran Johnson Woodard, SC Primary Health Care Association CEO, met in early June to discuss advances in technologies  for CHCs.
The 2015 average per-visit cost to visit Pee Dee area emergency departments was between $4,000 and $5,000. The average cost per patient per year for quality preventive care at community health centers like HopeHealth? Just $1,200; an estimated taxpayer savings of more than $5 million if just 1,500 people visit their primary care provider for their non-emergency health care instead of one visit to the ED.
The financial savings are just one factor of the importance of community health centers; they are also an integral part of the nation's health care system and provide access to care for almost 23 million people.
Lathran Johnson Woodard, SC Primary Health Care Association CEO, noted recently that health centers provide more than just medical care and emphasized that centers such as HopeHealth provide health care for the whole individual – from mental to dental to physical care.
HopeHealth's most important contribution to the community is the access to care for our patients. Additional contributions include the myriad direct and indirect jobs created by the presence of a community health center. The centers are also a benefit to the state and national health systems. If South Carolina's 21 health centers and their 144 service sites were to disappear, it would have a huge impact on the emergency departments and other health care systems in each of those communities.
For more on the benefits of such centers, visit the National Association of Community Health Centers at nachc.org or the SC Primary Health Care Association at scphca.org. Participate socially using #NHCW16; #HH25years.

Going for Gold in the Effort to Keep Community Health Centers Funded
Each year community health center advocacy efforts focus on several issues close to the heart of the HopeHealth organization. This year coordinated efforts across the country are focused on increasing the network of individuals willing to advocate. The 100K in 100 Days challenge does just that by seeking new advocates to join the 80,000 nationwide supporters of community health centers. The challenge launched in April and continues through National Health Center Week.
At HopeHealth, we strive for excellence and, in conjunction with the challenge, are seeking to achieve gold status as an Advocacy Center of Excellence (ACE) – a recognition program through the National Association of Community Health Centers. Becoming an ACE demonstrates an actively engaged core at the center and a commitment to advocate for policy issues impacting health centers and their patients.
More than 214 HopeHealth advocates have already shown their support for community health centers and our goal is to grow this support. This can be as simple as signing up as a CHC advocate at http://www.saveourchcs.org/signup.cfm and listing HopeHealth as your community health center.
Other ways to support the 100k in 100 Days challenge and our commitment to ACE include participating in Health Center Week events and activities such as the South Carolina Dental Access Days (DAD). DAD is a three-day event that will be held Aug. 25-27 at the Florence Civic Center and will provide free dental care to area citizens. Volunteers are needed to assist with registration/checkout, food service, escort/greeter, messenger, translator and loading/unloading equipment. For more information on volunteering at DAD, contact Diane Davis at didavis@hope-health.org.
Join the Movement! Sign up to be a Health Center advocate today. http://www.saveourchcs.org/signup.cfm