Latino Health Services Expands Access to Care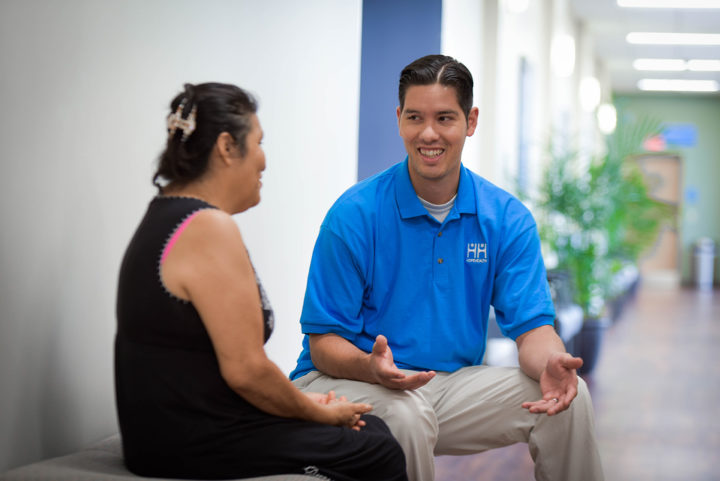 Most Latinos moving to South Carolina are young, working families. Early prenatal care, pediatric well visits and chronic disease prevention are essential steps in keeping this population healthy.
Many of these working families do not often use the health care system except for childbirth and emergencies due to significant barriers including lack of understanding the health care system, language, transportation issues, and income status. Interpreters at HopeHealth, like Latino Services Interpreter, Eduardo Velazquez (pictured above), and Latino Outreach Specialist, Ednaliz Rodriguez-Medina (pictured below), help overcome these hurdles.
Outreach coordinators go out into communities where services are needed most in order to gain trust. Once there is an established relationship, the coordinators provide health care education, enroll patients into care, make appointments with primary care providers, provide interpretation and translation services during  their appointment, and follow up to ensure no additional care is required.
Breaking Down the Language Barrier
Clear communication between a patient and provider is essential to determine health care needs. Language barriers hinder this process. For many, a family member steps in, but this is not ideal.
HopeHealth helps remove such language barriers to health care with its Latino Services initiatives such as recent additions expanding our Spanish-speaking interpreter staff. The interpreters can accompany patients in provider visits and help navigate our health care system.
HopeHealth 'Makes Connections'
Mental health and wellbeing of men and boys remains a subject and area of service to which little attention is given, but HopeHealth's Making Connections initiative provides promise.
In 2015, HopeHealth was chosen as 1 of 16 organizations across the US to help facilitate improvement in the awareness and support of men and boys' mental wellbeing within local communities. After months of planning, including focus groups with the target populations and service-provider interviews, HopeHealth will implement the following across Aiken, Clarendon, Florence, Orangeburg & Williamsburg counties:
Enhance Veteran services by developing peer-to-peer relationships within HH and via partnership with SC Thrive
Increase capacity for trainings of Mental Health First Aide across the five counties
Provide screenings for depression, anxiety, suicide through pediatric offices
Enlist bi-lingual staff to address needs for healthcare, trauma services, counseling, and networking for community resources in Latino communities
Making Connections is a product of a partnership between Prevention Institute and global men's health organization Movember Foundation. Local partners include SC Thrive; SC Office of Rural Health; PASOs; Arnold School of Public Health, Latino Studies, at USC; & Boys and Girls Club of Florence.