Chiropractic Care Offers Alternative Solutions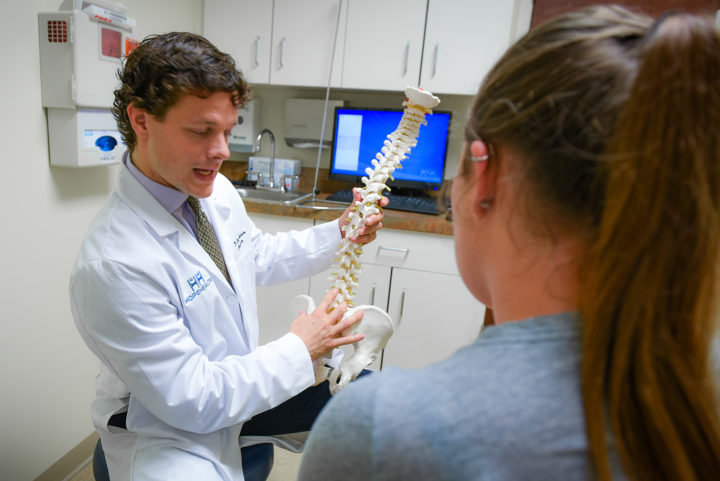 Chiropractic care is most effective at treating conditions that involve the body's musculoskeletal, biomechanical and neurologic systems. Recognizing the need for integrated medicine, HopeHealth Specialty Services began offering chiropractic care in November 2014 with Dr. Brian Hutcheson (pictured above).
HopeHealth Chiropractic Care techniques include manipulation and dry needling.
Manipulation is a chiropractor's primary treatment method and is used to manually adjust areas of a patient's skeleton, most commonly, the spine. Chiropractors manipulate joints that have abnormal movement patterns or fail to function normally to improve function and range of motion and reduce nerve interference.
Functional Dry Needling, conversely, is a minimally invasive procedure used in areas of tissue dysfunction and trigger points. During this procedure, needles are inserted into impacted areas to decrease pain and increase range of motion and for conditions such as headaches, neck and back pain, sciatica, muscle strains, ligament sprains, repetitive strain injuries, sports injuries, tennis elbow, tendinitis, plantar fasciitis, shoulder, hip and knee pain.
Dr. Hutcheson helps people of all ages with a wide variety of conditions, including joint pain, headaches, strained muscles, numbness and tingling, as well as balance issues. Additionally, chiropractic care services help rehabilitate patients involved in trauma or injury, as well as following surgery, and is also known to alleviate discomfort and pain during pregnancy and to provide relief from colic and constipation in infants.