Hepatitis C Infection: What It Is and What You Need to Know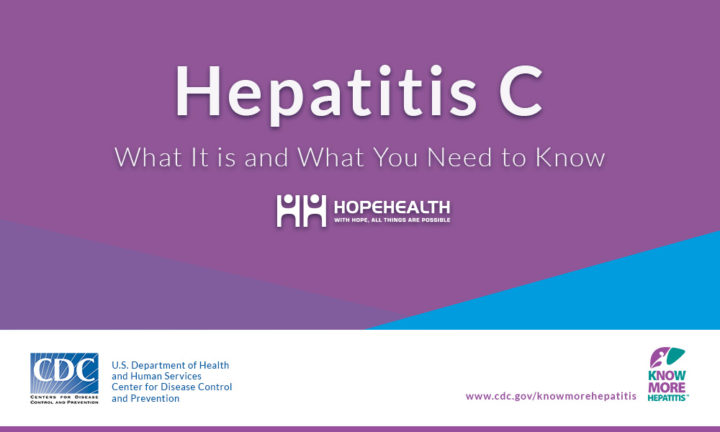 Hepatitis C is an infection of the liver that results from hepatitis C virus (HCV). It is a blood-borne infection that progresses slowly from acute to chronic stages.
In the United States, more than 3 million people are living with hepatitis C and don't know it. Many people were infected decades ago before blood screenings for the virus and improved health care practices were instituted.
Acute hepatitis C refers to the first several months after someone is infected. Acute infection is usually mild with few or no symptoms. Symptoms, when present, can include fever, fatigue, decreased appetite, nausea, vomiting, abdominal pain, dark urine, grey-colored stools, joint pain and jaundice.
Approximately 15 to 45 percent of infected persons are able to clear the virus within six months of infection without any treatment. However, up to 85 percent of people will develop chronic hepatitis C. Over time, chronic hepatitis C can cause serious health problems, including liver disease, liver failure, cirrhosis and liver cancer.
The populations at increased risk of HCV infection include people born between 1945 and 1965, people who inject drugs or use intranasal drugs, patients on hemodialysis, recipients of infected blood products or invasive procedures in health care facilities with inadequate infection control practices, children born to mothers infected with HCV, people with sexual partners who are HCV-infected, people with HIV infection and people who have had tattoos or piercings.
The only way to know if you have hepatitis C is to get tested using a blood test called the hepatitis C antibody test. Test results can take days or weeks to come back, but new, rapid tests are now available that provide results in 20 to 30 minutes. A positive antibody test does not necessarily mean a person has hepatitis C. A positive test only means that the person has been exposed to HCV at some point in time. An additional test, called an RNA test, is needed to determine if a person is infected with hepatitis C.
When diagnosed with Hepatitis C, it is important to see a specialist trained in infectious disease or gastroenterology who can also work with, or be, your primary care physician. Treatment with oral antiviral medicines can cure approximately 90 percent of infections.
Hepatitis C treatment is complex and depends on various factors, including:
The genotype of the virus.
The viral load number
Whether the patient was treated previously with older agents such as peg-interferon.
The extent of the liver cirrhosis.
Based on these factors, a specialist can decide which medication to use and for how long.
Treatment is expensive. It can take as long as a year, and it requires regular blood tests.
Collaboration with the patient's primary care provider can address comprehensive health care treatment, especially when a patient has multiple chronic conditions, and it can help ensure any side effects are properly managed.
At this time, there is no vaccine for hepatitis C. Research in this area is ongoing.