October exercise of the month: resistance bands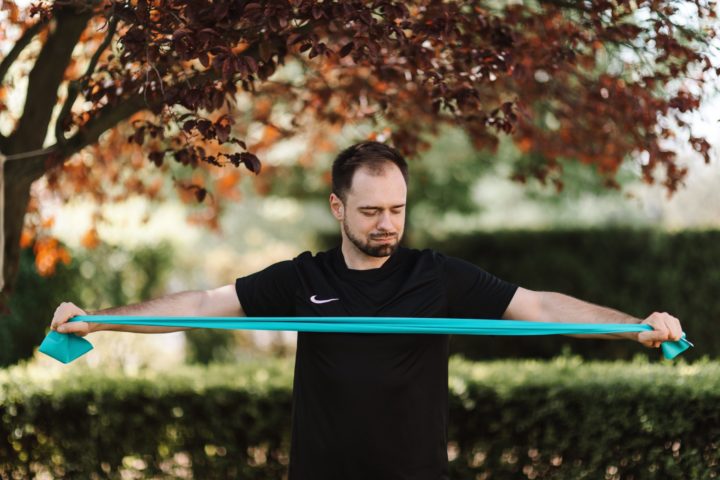 Kayla Thompson, MS, ACSM-EP
Leaves are falling, pumpkins adorn porch steps, and bonfire smells fill the air. October is our beloved season divider. It separates our fun-in-the-sun and the holiday season. As the holidays approach, exercise can sometimes feel tricky to fit into our schedules.
This month, I thought we could take a step back and look at a tool that could benefit your fitness goals: resistance bands. A resistance band is essentially a piece of rubber used like hand weights. It provides the force against which your muscles work.
Resistance bands come in many weights, sizes, and shapes and can be easily incorporated into an exercise routine. There are a ton of benefits to resistance bands. Benefits of resistance bands include:
less expensive than weights
can be used almost anywhere and pack well for busy holiday travels
user-friendly and versatile
can be used to stretch and strengthen your body
Band Strength
Resistance bands are classified by weight: the stronger the band, the more resistance and heavier weight it corresponds to. You can determine the weight by the color of the band. There are thousands of bands to choose from, and most basic sets include three colors: red, yellow, and green. While companies label their bands differently, in general:
Yellow – Thin/Easy/X-Light
Red – Light
Green – Medium
Blue – Heavy
Black – X-Heavy
Band Types
Loop Bands – Loop bands are great for upper and lower body exercise. They create a circular shape and come in varying lengths. Some of the smaller loop bands are referred to as mini bands. These are great for those just getting started, as well as for the expert wanting to spice up their workouts.
Tube Bands – Tube bands describe the item very well. Tube bands come with handles attached to them, and the rubber material looks like a tube. These bands are excellent for upper body exercise routines. They are a little more costly than loop bands, and they do not create a circular shape. Each end has a handle for you to hold during use.
Therapy Bands – Therapy bands are often used in a physical therapy office (hence the name). They are typically lighter in weight and are essentially a flat strip of rubber with no handles. They are usually a little wider than a loop band. They can be used in a variety of ways and are a huge resource to have in your tool belt of health. The bands are quite versatile: you can tie a knot in one end and close it in a door to secure it for use, or tie both ends together for a make-shift loop band.
Resistance bands are so versatile and unique. The different types are great tools to have in your home. In the months to follow, I am going to dive into some different exercises that involve resistance bands. Be on the lookout for how to incorporate them into your exercise routine!
Meanwhile, try using them for exercises we have already covered. Bands can be used during bicep curls, bridges, and squats. When trying them out for the first time, use a low weight level band and decrease the number of repetitions. If you have been doing 15 to 20 reps without a band, cut back to 8 to 10 reps with a band. See how your body feels and adjust from there.
I am excited for you guys to try these out! Have fun with it and remember to log everything in your exercise notebook or app! If you have any questions, each out to me at kthompson@hope-health.org.
Kayla Thompson is a diabetes care coordinator at the HopeHealth Medical Plaza in Florence and is a certified exercise physiologist through the American College of Sports Medicine. She has a Master of Science in clinical exercise science.