Carl Humphries Awarded Fred R. Sheheen Award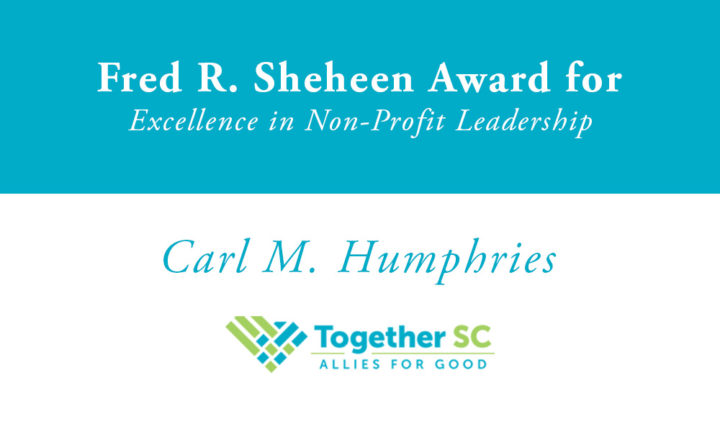 article via The Morning News
FLORENCE, S.C. – Carl M. Humphries, chief executive officer of HopeHealth Inc., received the 2017 Fred R. Sheheen Award for Excellence in Nonprofit Leadership at the South Carolina Association of Non-Profit Organizations Summit, held Tuesday in Columbia.
The award recognizes a graduate of the Francis Marion University's newly named Fred Sheheen Nonprofit Leadership Institute or a member of the association who has excelled in the management of a nonprofit organization in the state. The association recently adopted a new name: Together SC.
Presented jointly by the association and the Sheheen Nonprofit Leadership Institute, the award was recently renamed in memory of the founding director of the Nonprofit Leadership Institute, Fred R. Sheheen.
Humphries is a graduate of the University of South Carolina. He has been with HopeHealth for 16 years and has presided over the organization's growth from a small community health provider to an important regional health center. Much of that growth has taken place in the past five years.
In 2013, after winning a competitive federal grant, HopeHealth more than doubled in size overnight. The organization, which provides low-cost, need-based medical care to a broad, underserved area, recently moved into a new facility and already is expanding that building. HopeHealth serves more than 35,000 patients and employs more than 300 people in the Florence area and Pee Dee region. Deena Hilton, HopeHealth's chief operations officer, says that Humphries' gifts as a leader are clear to all involved.
"From the beginning of Carl's tenure as leader of HopeHealth, he strived to diversify funding, expand programs and grow our donor base," Hilton said. "Carl has a gift: the ability to visualize what he wants without limiting himself. (He) is widely known in the Florence community as a champion for HopeHealth and our mission to serve the underserved."