HopeHealth Celebrates 25 Years of Excellence in Health Care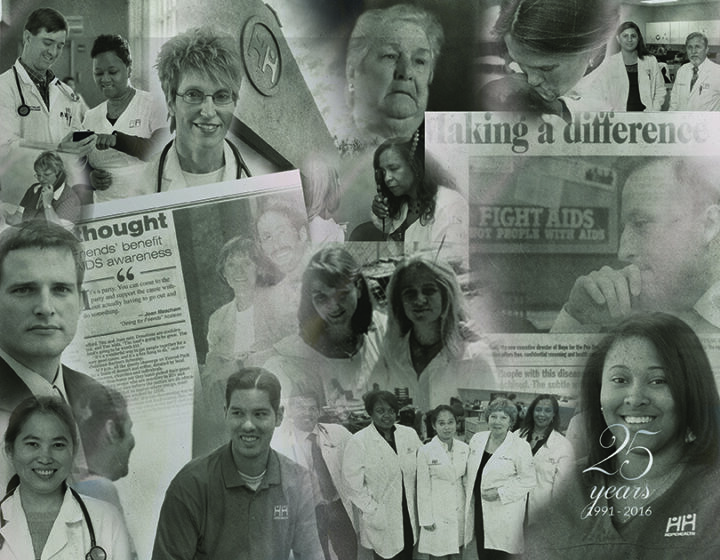 FLORENCE, S.C. (November 22, 2016) – HopeHealth celebrated their 25th anniversary Friday, Nov. 18, 2016, with a gala at the Southeastern Institute of Manufacturing and Technology in Florence.
The gala highlighted more than two decades of HopeHealth's dedication to promoting wellness and addressing health disparities in several south Carolina regions. The event was attended by more than 400 community members including past and present board of directors members, HopeHealth staff, providers, patients, and supporters of the Florence-based community health center. During the evening, more than a dozen patients' stories were highlighted, including:
Brian Wasonga, an 18-year-old from Kenya who is being treated by Dr. Michael K. Foxworth II, a pediatric infectious diseases specialist, at the HopeHealth Medical Plaza in Florence for a severe bone infection that almost destroyed Brian's knee and cost him his leg.
Frank Salomani, a Hepatitis C patient who is in his final week of a six-month treatment program with Infectious Diseases specialist, Dr. Rishika Motiani, at HopeHealth Specialty Services in Florence.
Jeri Hatchell, a retired teacher whose bout with the flu over Christmas 2014 turned in to double pneumonia and a week-long stay in hospital after a last minute, same-day appointment with her primary care provider, HopeHealth's Dr. Kelly Lyles.
Jose Sales Lopez, a 24-year-old seasonal farm worker who has made HopeHealth Manning his health care home for managing his diabetes and other chronic health conditions.
Pailyn Harrison, a three-year-old pediatric patient of Dr. Beryl Bachus-Keith at HopeHealth Pediatrics Manning who was referred to a cardiologist during her one-month well visit. The referral saved Pailyn's life and at seven-weeks old she became the youngest heart transplant patient at the Medical University of South Carolina.
Throughout its 25 years, HopeHealth has embraced core values while providing quality, equitable health care to its patients: compassion, integrity, accountability, innovation, and excellence.
From its 1991 roots in a Pee Dee living room, HopeHealth has grown to a dozen facilities with more than 300 employees. Since 1997, the nonprofit organization has provided HIV/AIDS services through Ryan White parts B and C funding and is now one of the largest AIDS Services Organizations in the state, caring for more than 1,500 people living with HIV/AIDS annually. Available health care services expanded in 2007 when HopeHealth received a Health Resources and Services Administration grant to become a federally qualified health center.
The organization continues to expand services and access with a patient-centered care model and a whole-health approach to care. Most recently, the organization expanded a variety of programs and opened Phase I of the new Medical Plaza on North Irby Street, Florence, and a new site in Greeleyville. By the end of 2016, HopeHealth will incorporate dental services in Florence, and, in 2017, Phase II of the Medical Plaza is scheduled to open as well as completed renovation and expansion plans at several additional sites such as Kingstree and Aiken.
HopeHealth provides high-quality, comprehensive health care services to the low-income, underserved populations of Florence, Clarendon, and Williamsburg counties as well as HIV/AIDS care and support services in the Pee Dee, Aiken and Orangeburg regions. In 2015, HopeHealth served 34,255 patients with 132,149 encounters, including 117,769 total medical encounters, 10,758 total enabling encounters, and 3,622 total mental health encounters.
HopeHealth is one of 21 nonprofit, federally qualified health centers in South Carolina and provides quality and affordable health care services to individuals in Florence, Clarendon, and Williamsburg Counties.
For questions or more information, email tstraus@hope-health.org or call 843-245-2291.