HopeHealth celebrates Giving Tuesday with Together SC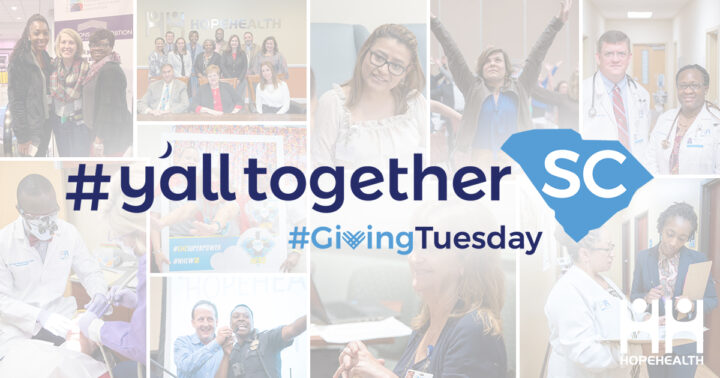 FLORENCE, S.C. (November 5, 2018) – HopeHealth has partnered with Together SC and their state-wide Y'all Together SC campaign to build understanding and appreciation of our nonprofit sector.
This campaign is part of the global Giving Tuesday and local Giving Tuesday Pee Dee initiatives that aim to harness the collective power of individuals, communities, and organizations to encourage and celebrate generosity worldwide by recognizing the first Tuesday after Thanksgiving as a global day of giving.
HopeHealth invites all community members to join us in kicking off the giving season with #yalltogetherSC. Help us celebrate Giving Tuesday by following us on Facebook, Twitter, and Instagram. Each week leading up to Giving Tuesday, Nov. 27, HopeHealth will share through social media who we are, why we are here, and how the support we receive impacts our communities.
On Nov. 27, visit us at the Eastern Carolina Community Foundation's Donation Station and Open House at the Waters Building in downtown Florence from 3-7 p.m. During this event,  you can learn more about local nonprofit organizations, how we serve the community, and make donations. Leading up to and during the Donation Station and Open House, HopeHealth will be accepting new toys for kids ages 2-10 for our annual Children of Hope program.
HopeHealth is one of 23 nonprofit, federally qualified health centers in South Carolina. We provide quality and affordable health care services to individuals in Florence, Clarendon, and Williamsburg Counties and infectious diseases services in Aiken, Clarendon, Florence, Orangeburg, and Williamsburg Counties. To become a patient, call 843-667-9414 or visit hope-health.org.