HopeHealth celebrates groundbreaking at HopeHealth in Manning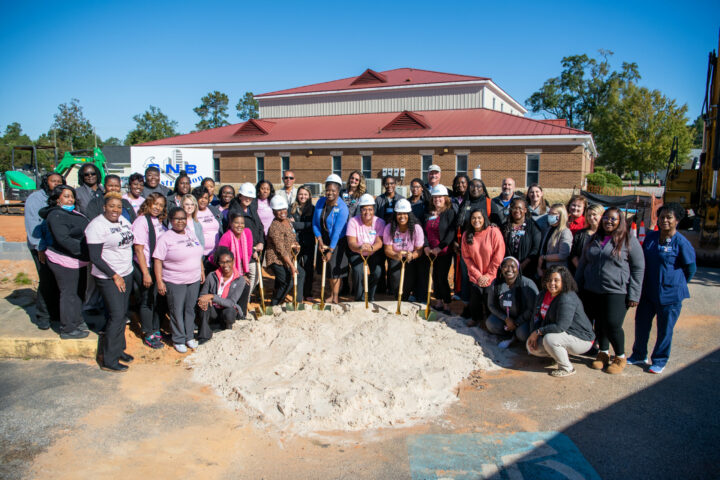 On Friday, October 21, HopeHealth hosted a groundbreaking ceremony to celebrate the expansion of HopeHealth in Manning at 12 W. South Street, Manning, SC 29102.
The groundbreaking signified the start of a 12,566-square-foot addition to the HopeHealth in Manning building, connecting the facility's two existing on-site buildings. The addition provides a new main entrance facing S. Mill Street, housing a large lobby with security, restrooms, a new lab, and a large reception and information center.
On the importance of the expansion, Carl Humphries, CEO, shared, "This project in Manning will be our most significant building project ever outside of Florence. I'm excited for what it will mean for our patients and the community. Our team has worked hard for years to get to this point, and I'm really glad to see everything coming together."
"It has truly been a long time coming," stated Falecia Miller, associate vice president of clinical operations for the south region. The expansion provides additional parking, exam rooms, waiting rooms, and offices for several services provided at HopeHealth in Manning, including behavioral health, rheumatology, women's health, physical therapy, and dental services.
The event included remarks from a variety of speakers, including Manning mayor Julia Nelson. "We are ecstatic that HopeHealth is growing again and especially in Manning.  The quality of health care that HopeHealth provides to our citizens is second to none. It's wonderful to know that regardless of insurance status or ability to pay, all HopeHealth patients receive the best care. HopeHealth also has a significant role in economic development for Clarendon County, helping to ensure that potential businesses coming to the area are able to secure quality health care for their employees."
Mayor Nelson also has a personal connection to HopeHealth and its beginnings. She shared, "Upon graduating from South Carolina State University, I began employment with the Manning Health Clinic, which was under the management of the Black River Consortium. At that time, we had three staff members, and we struggled with many long days trying to provide medical care. Years later, Black River Healthcare absorbed the Manning Health Clinic, and HopeHealth eventually acquired Black River. It warms my heart to see the major progress HopeHealth has made from the Manning Health Clinic's humble beginnings."