Hopehealth Hosts Nascar's Ryan Reed For Open Discussion On Life With Diabetes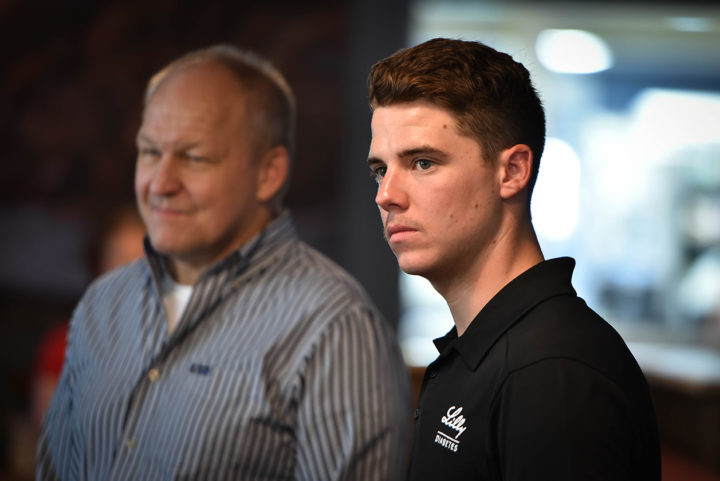 FLORENCE, S.C. (September 1, 2016) – With track speed records exceeding 180 mph, monitoring water temperature, fuel levels, oil and water pressure, and more is second nature to NASCAR XFINITY Series drivers, even with the digital dashboards that became mandatory just this February. For one driver heading out on the Darlington Raceway this weekend however, there's one additional gauge to keep a watchful eye on – a continuous glucose monitor.
Meet Ryan Reed – Roush Fenway Racing's #16 driver whose Ford Mustang is fitted with the additional dash-mounted monitor; arguably his most important gauge. The gauge allows Reed to know exactly how his body is handling the stress of racing and its impact on his blood sugar levels. Important, because Reed, 23, has type 1 diabetes.
His diagnosis at age 17 could have cut short his racing career (he won his first race, a Kid's Kart Track Championship, at age 4). Instead, Reed found a way to not only manage his diabetes and continue racing, but also to promote awareness about the disease with sponsors Lilly Diabetes and the American Diabetes Association Drive to Stop Diabetes℠. He works closely with his doctors to create and follow diabetes maintenance routines and incorporates care plans into pit stop practices.
"Driving a racecar, the inside can be north of 140 degrees, so keeping insulin in the car probably isn't a great option," said Reed. Instead, if needed, Reed would receive an insulin injection during a pit stop. "It's something we practice but have never had to do in real, live conditions," he said.
Reed shared his story Thursday evening at Tracks Café in the HopeHealth Medical Plaza on North Irby Street in Florence. There, he spoke to more than 30 individuals, some of whom address their own diabetic care needs at the HopeHealth Diabetes and Nutrition Center.
Also sharing his diabetes journey was Sam Bass, the first officially licensed artist of NASCAR and the creator behind the scheme for Reed's #16 throwback car for this weekend's BoJangles Southern 500 at Darlington Raceway. Diagnosed with diabetes at age 31, Bass has faced numerous complications with the disease, including the amputation of his left leg below the knee and three severe blood infections that almost took his life.
"(Diabetes has) been a really, really big challenge for me but the good thing about diabetes is that it's not a death sentence. It's something that you have, but you can manage it and you can control it to a certain extent," said Bass. "You've got to take it in stride … do the right things and know 'I can control this and I can take care of this, manage this, and prolong my life.'"
Reed said getting diagnosed with diabetes changed his life completely but, while he might wish he didn't have the disease, there's a lot of positives in his life that came out of the diagnosis.
"I just didn't live a very healthy lifestyle," said Reed. "Now I'm 10-fold the athlete that I ever was or would (have been)." Reed said he will run in his first triathlon this December – something he added he would never have done if he hadn't been diagnosed with diabetes.
"Living with diabetes has inspired me to take a hold of my health and be the best I can be and do the best that I can to manage my diabetes," said Reed.
"A lot of people feel that diabetes takes over their lives," said Christie Evans, a HopeHealth nurse practitioner in the Diabetes and Nutrition Center. "(Ryan Reed and Sam Bass) are examples that it doesn't have to; that people can overcome their own hurdles and still do the things they love."
Helping diabetics overcome those hurdles and continue doing what they love to do is part of the mission of the HopeHealth Diabetes and Nutrition Center. The center offers several programs addressing diabetic concerns, including: Diabetes Self-Management Education; the Better Choices, Better Health program; medical nutrition therapy; nutrition counseling; and the National Diabetes Prevention Program.
HopeHealth is one of 21 nonprofit, federally qualified health centers in South Carolina and provides quality and affordable health care services to individuals in Florence, Clarendon, and Williamsburg Counties.
For questions or more information, email tstraus@hope-health.org or call 843-245-2291.