HOPEHEALTH INTRODUCES NEW BOARD MEMBERS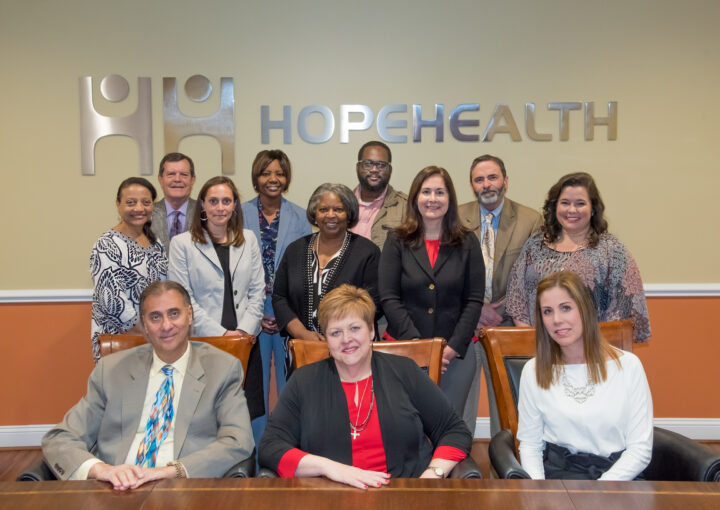 HopeHealth Board of Directors announced the appointment of new officers, two new members, and the approval of a two-year strategic plan at the Annual Meeting on April 10. Joining the board are Martina Love and Ednaliz Rodriguez-Medina, both of Florence. Marie Saleeby, hospital administrator and senior vice president at McLeod Regional Medical Center, began her term as board chair.
"HopeHealth is serving our community by assisting citizens to obtain health care and get healthy," said Saleeby. "I believe a healthy community will be a benefit to all facets of our lives. I am delighted to be involved in this important mission."
Board members are selected for their expertise in community affairs, local government, business development, social work, and other philanthropic interests.
During the first meeting of the new fiscal year, the 13 members reviewed and approved HopeHealth's strategic plan for 2018-2020. Summarized by the three priority areas – customer, community, and company – the plan includes input from across all HopeHealth's stakeholders, including board members, and is rooted in HopeHealth's mission, vision, and values. Each priority area includes several specific goals and objectives designed to help HopeHealth navigate the next two years and to continue providing affordable, accessible health care in the region.
"This plan is heavily influenced by our outgoing chair Ms. Jeanette Glenn.  During her six years of service on our board, she has been a steady voice for putting the needs of the patient first," said Carl Humphries, HopeHealth CEO. "I'm excited to see what the next two years brings for us and I'm looking forward to working with the current board of directors to accomplish the very aggressive goals set forth in this plan."
In keeping with the Federally Qualified Health Center requirement that a majority of directors is served by the center, nine of the thirteen board members call HopeHealth their primary health care home.
2018 Board of Directors
Chair: Marie Saleeby, Hospital Administrator & Senior Vice President, McLeod Regional Medical Center
Vice Chair: Tom Shearin, Collections Manager, City of Florence
Secretary: Kim Johnson, Marketing Officer
Treasurer: Elizabeth Poston, Social Worker
Directors:
Jeanie Brown-Burrows, Williamsburg County Councilwoman
Brandis Winstead, Moore Intermediate Elementary School Counselor
Ed Frye, Retired Hospital Administrator
John Jebaily, Broker
Joy Barnes, Retired Registered Nurse
Antonio Cooper, School Psychologist
Mauro Diaz, Volunteer Physician
Ednaliz Rodriquez-Medina, Physician/Student
Martina Love, Attorney
PHOTO BY GRAYSON MARKLE/HOPEHEALTH
The 2018 HopeHealth Board of Directors includes, from left: (back row) Ed Frye, Kim Johnson, Antonio Cooper, and Tom Shearin; (center row) Joy Barnes, Martina Love, Jeanie Brown-Burrows, Elizabeth Poston, and Brandis Winstead; (front row) John Jebaily, Marie Saleeby, and Endaliz Rodriguez-Medina. Not pictured is Mauro Diaz.