Hopehealth Provider Honored With 'Boundless Compassion' Award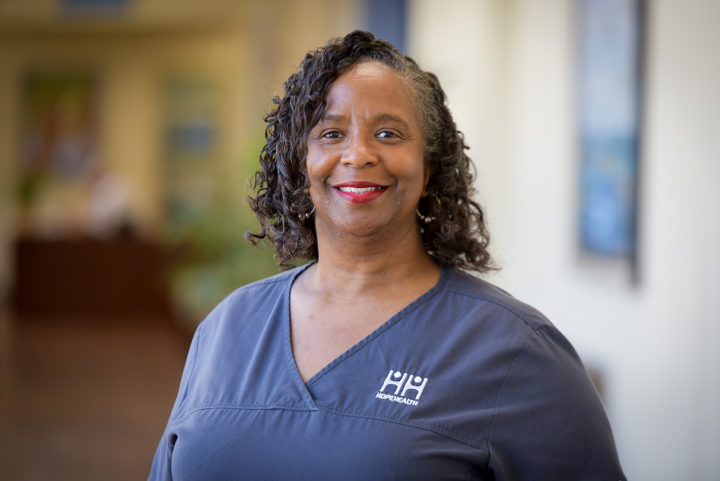 FLORENCE, S.C. (November 10, 2016) – Mary Mitchell, a certified family nurse practioner with HopeHealth, was named an Extaordinary Woman by She Magazine on Nov. 3 at the publication's third annual Extraordinary Woman 2016 Event.
Mitchell is one of 10 women, and one man, honored during the event and was presented with the Extraordinary Woman – Boundless Compassion award.
It's a pleasure to be able to take care of patients," said Mitchell while accepting the award. "From the age of five it's been in my heart that I've always wanted to give back, and I've always wanted to help those that couldn't help themselves. I like to be the voice for those who are sick and in need."
Mitchell said receiving the award was a surprise even though she knew she had been selected as a finalist.
"I was so overwhelmed and speechless. I was so honored," she said. "I feel really humble. You don't feel worthy all the time when you are doing want you do just because you love it. You don't think about (awards)."
The Extraordinary Woman – Boundless Compassion award is not the first of Mitchell's accolades; in 2013 she earned a Palmetto Gold Award for excellence in nursing, and, this year, was recipient of the Award of Excellence and named Customer Health Care Provider of the Year by the South Carolina Primary Health Care Association.
Mitchell has been a provider with HopeHealth for more than seven years and currently practices at the HopeHealth Medical Plaza in Florence, South Carolina. She is a member of the American Nurses Association and holds a Master of Science in Nursing from the University of Tennessee, Knoxville, Tennessee and a Bachelor of Science in Nursing from Carson Newman University, Jefferson City, Tennessee. She also completed graduate studies as a Faith Community Nurse from Duke University, North Carolina.
Beyond her role as a health care provider, the mother of two grown daughters and grandmother of four is an ordained minister, serves as the coordinator for health ministries in the Pee Dee region, a member of the Pee Dee Medical Professionals Board and serves as a preceptor for nursing students.
Mitchell was selected for the She Magazine honor from a pool of more than 250 nominees considered by the annual awards committee. The 2016 committee comprised representatives of the event's five major sponsors and the magazine. They included: Julia Derrick, McLeod Health; Starla Shelton, Palmetto First Credit Union; Stephanie C. Gibson, LPC, LifeCare Psychology Group; Anna Todd, Francis Marion University; Teressa Tabor and Sarah Travis, Methodist Manor; and Melia Flowers, She Magazine.
Other honorees recognized at the event include: Cookie Cawthon, Extraordinary Woman of the Year 2016; April Ott, Extraordinary Woman, Cornerstone Award; Jeanette Lowder, Extraordinary Woman in Education Award; Marie Saleeby, McLeod Health Extraordinary Woman In Healthcare Award; Pamela Rhodes, Extraordinary Woman, Art & Soul Award; Patricia Fraizer, Extraordinary Woman of Faith Award; Joyce Rogers – Extraordinary Woman Of Faith Award; Helen Doulaveris, Extraordinary Woman, Entrepreneur Award; April Randall, Extraordinary Woman, Overcomer Award; Tessie Smith, Extraordinary Woman, Shero Award; and Dr. Edward O'Dell, He Behind She Award.
HopeHealth is one of 21 nonprofit, federally qualified health centers in South Carolina and provides quality and affordable health care services to individuals in Florence, Clarendon, and Williamsburg Counties.
For questions or more information, email tstraus@hope-health.org or call 843-245-2291.