Ribbon Cutting Ceremony Held for the HopeHealth Medical Plaza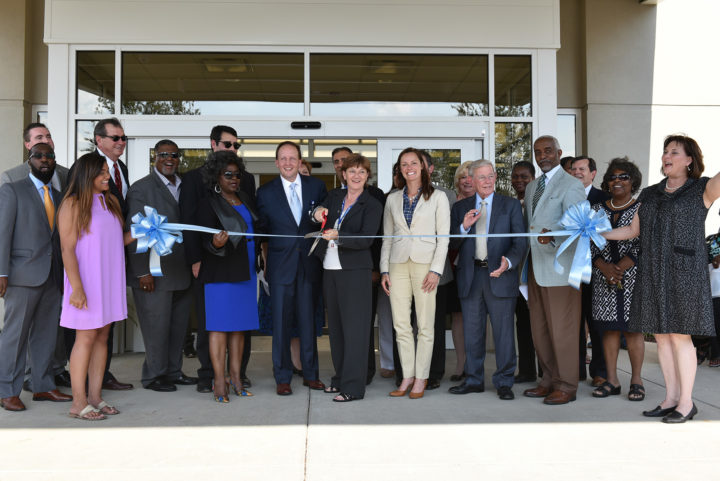 (pictured above) Deena Hilton, HopeHealth chief operations officer, cut the ribbon Thursday afternoon during the official opening ceremonies for the HopeHealth Medical Plaza. The ceremonies were held on the front lawn and also included a reception and tours of the new Florence facility.
FLORENCE, S.C. (April 28, 2016) – HopeHealth held a ribbon cutting celebration and open house from 4 – 6 p.m. for the HopeHealth Medical Plaza, 360, N. Irby St., Florence. HopeHealth opened the doors to its new, patient-centered community health center in downtown Florence in February. Guest speakers at the ceremony included City of Florence Mayor Stephen Wukela, South Carolina Primary Health Care Association CEO Lathran Woodard and HopeHealth CEO Carl Humphries.
As part of the opening ceremonies incoming board chair, Amber Turner of Wells Fargo, announced the new Board of Directors and the organization's new mission, vision, and values that reinforce HopeHealth's belief that a health care home is important for all patients.
"Today, as we celebrate our 25th year serving our communities, our organization looks a bit different than the small grassroots non-profit that started as a support group in a family living room," said Humphries. "We remain committed to strengthening our already strong partnerships within the community and to making a difference in the lives of our customers. The opening of this facility will help us move forward in aggressively pursuing solutions to the health problems that plague the citizens of the counties that we serve."
The opening of HopeHealth's new center is the result of years of hard work and collaboration among city and state partners. In 2012, the organization was awarded one of three capital grants by the Department of Health and Human Services. In 2013, Mayor Wukela, along with other influential Florence leaders, suggested the possibility of moving the project to the former Bush Recycling grounds. The City of Florence, Congressman James E. Clyburn, and the Drs. Bruce and Lee Foundation had already made significant contributions toward the cleanup of the property. The City generously offered to donate the property to HopeHealth, and the community health center broke ground in August 2014.
A new design concept to enhance patient-centered medical care was birthed out of a desire to move away from traditional medical offices with large waiting rooms and increase communication between staff and patients and efficiency. Patient appointments are available Monday – Saturday, 8 a.m. – 8 p.m. in the 47,889 square foot building that houses eight medical suites, a laboratory, radiology, pediatrics department, pharmacy, and administrative offices. An onsite café, Tracks, is scheduled to open later this spring and a second phase of construction is underway that will add an additional 40,000-plus square foot to the facility and additional services.
HopeHealth is one of 17 nonprofit, federally-qualified health centers in South Carolina and provides quality and affordable health care services to individuals in Florence, Clarendon, and Williamsburg Counties.
For questions, email tstraus@hope-health.org or call 843-245-2291