SC Primary Health Care Association Names HopeHealth's Van Camp Champion of Practice Transformation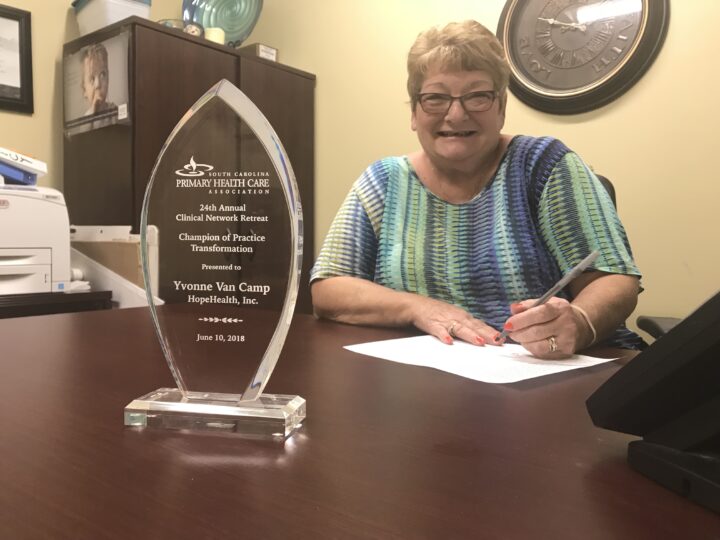 Yvonne Van Camp, director of clinical quality at the HopeHealth Medical Plaza in Florence, has been named the 2018 Champion of Practice Transformation by the S.C. Primary Health Care Association.
The award recognizes the impact of quality initiatives overseen by Van Camp at HopeHealth and specifically outlines her work on improving colorectal cancer screening rates by implementing evidence-based strategies.
"The award was designed to recognize the exemplary efforts of a team member in a community-based health care setting who has demonstrated a commitment to patient-centered care through innovative practice transformation efforts," said Katherine Plunkett who assists community health centers with clinical quality improvement and practice transformation initiatives with the SCPHCA.
"Yvonne was nominated for her great skills, innovative ideas, and techniques in helping improve all quality measures, especially colorectal cancer screening rates for her patients. Her nominator has worked with Yvonne for two years on a CDC grant project, and she has been a champion in helping implement evidence base strategies to increase these screening rates at HopeHealth. Her leadership, knowledge, family-centered approach, and innovative ideas, have shaped and influenced her staff, patients, and the sites as a whole.
,pVan Camp explained practice transformation is about becoming a patient-centered medical home by putting the patient at the center of our care and transforming our practice to improve four factors:
· Financial responsibility
· Medical outcomes
· Patient satisfaction
· Provider & staff satisfaction
Van Camp said the peer acknowledgment imparted by the award give her a "sense of accomplishment" about her work at HopeHealth which has contributed to HopeHealth's recognition as a Level 3 patient-centered medical home last year for using evidence-based, patient-centered processes that focus on highly coordinated care and long-term, participative relationships.