Real Men Wear Scrubs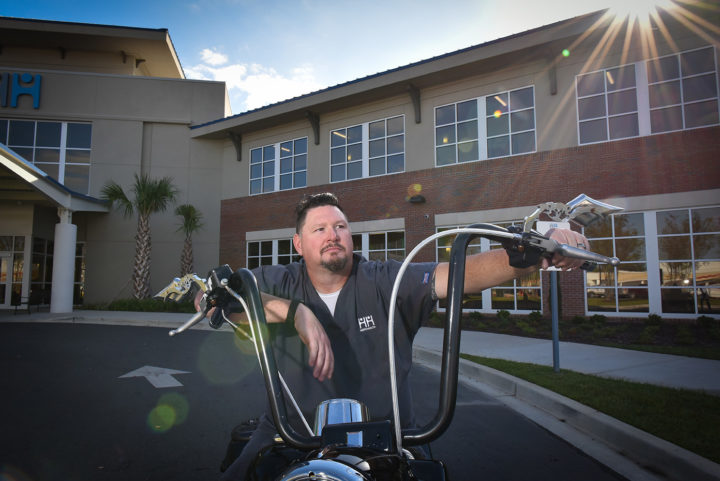 Desert Storm veteran and motorcycle enthusiast Howard Yarborough, a nurse at HopeHealth Medical Plaza, always wanted to work in the medical field. Both his parents were also in the military, and his mother was a nurse. After serving in the US Army, Yarborough tried several career paths and found his passion as a licensed practical nurse after graduating from Central Carolina Technical College in August 2011.
Yarborough joined the HopeHealth team nearly two years ago and has found that succeeding as a military mechanic and a medical nurse have common grounds.
"Just like the military, health care is a team effort." said Yarborough. "From pilot, to flight engineer, to crew chief; and, from practitioner, to nurse to medical assistant, there is a team striving for the best outcome possible."
With many behind-the-scenes duties, Yarborough's job involves record searches and administrative tasks but also keeps him face-to-face with patients by assisting with procedures, providing patients with lab and test results, and spending time talking with them about their concerns. Sometimes, especially with men, a little tough love is necessary.
Yarborough explained that many men avoid going to the doctor because they feel it is a sign of weakness. Compliance is also an issue, and some men wait until a basic symptom becomes complicated or until a serious emergency occurs such as a heart attack or stroke before visiting a doctor. Especially in cases of mental health needs, men rarely ask for help.
According to the Centers for Disease Control and Prevention, women are 100 percent more likely to see a doctor for regular visits and health screenings. Those visits are among the factors that impact the five-year gap in life expectancy between men and women.
Yarborough says he tries to explain the importance of regular check ups, even when feeling healthy, to keep up on demographic-appropriate screenings such as blood pressure, cholesterol, diabetes, depression and infectious diseases. For men over 40, some of those screenings include osteoporosis and cancers such as colon, prostate, testicular and lung.
Patients also need to understand why medication compliance is vitally important. "Through tough love, I tell my patients how possible it is to have a heart attack or even die if they choose not to take their medication as instructed." At the end of the day, Yarborough wants his patients to understand how important it is to take control of their own health.
'Spending a few extra minutes talking with a patient allows me to really learn what drives the person to be better."
-Howard Yarborough, LPN
Listening to patients and digging to the root of what is happening with his patients has helped Yarborough succeed in his role. 'Spending a few extra minutes talking with a patient allows me to really learn what drives the person to be better."
This strategy of communication and care has really grown Yarborough as a nurse. As a diabetic himself, he also uses his own experiences and struggles to relate to his patients. More than a dozen years ago, Yarborough was working out and keeping himself in shape. He was used to being physically fit but began struggling to stay as active as usual. He found out he was diabetic, and at one point, got up to 360 pounds. Today, Yarborough said he has lost much of that excess weight and continues to work every day on managing his diabetes. This helps make him a better nurse, husband and father.
Yarborough is the biggest cheerleader for many of his patients. He uses his 'can do' attitude to challenge them and remind them that they, too, can have success stories of their own.