HopeHealth Receives Award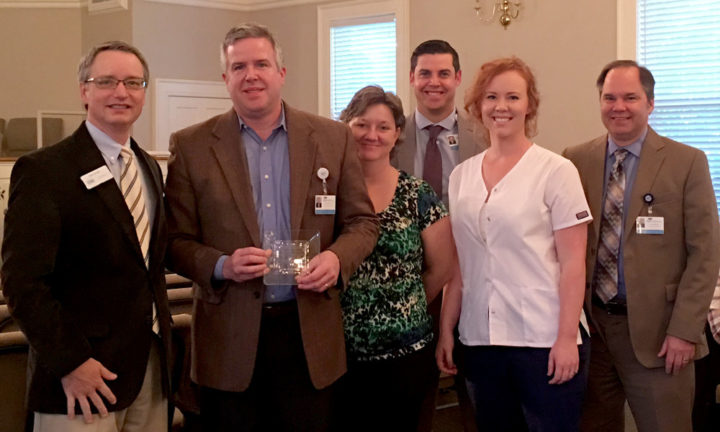 FLORENCE, S.C. (November 20, 2017) – HopeHealth was named Company of the Year by the South Carolina Baptist Ministries of Aging in an event Nov. 1 that celebrated donors and volunteers for the Bethea Retirement Community in Darlington.
Tom Turner, president and CEO of SC Baptist Ministries of Aging, presented the award to HopeHealth representatives during the appreciation breakfast, and Benjamin Spurling, Bethea executive director, spoke on the relationship between HopeHealth and the community's residents.
"Their desire to provide our residents with easy access to medical care prompted HopeHealth to extend their partnership with Bethea for a primary care office on our campus," said Spurling.
"We are truly honored to receive this recognition from Bethea," said Dr. Edward Behling, chief medical officer for HopeHealth. "They have proven to be outstanding partners as we strive to improve the quality of life for our valued senior residents in the Pee Dee. It is such a privilege to participate in the care of the wonderful individuals at Bethea Retirement Community, and to work with their excellent staff. This practice, in addition to our senior-focused programs such as Hope Gold, chronic care management, and Thursdays at Hope, underscore our commitment to the seniors in our community."
HopeHealth at Bethea held an open house in June for introductions to Brittany Timmons, a HopeHealth family nurse practitioner who provides primary care services for the residents. HopeHealth at Bethea is currently available only to the residents of the retirement community.
HopeHealth is one of 21 nonprofit, federally qualified health centers in South Carolina and provides quality and affordable health care services to individuals in Florence, Clarendon, and Williamsburg Counties.
For questions or more information, email tstraus@hope-health.org or call 843-245-2291.