New Florence Behavioral Health Initiative Represents First-of-its-kind Collaboration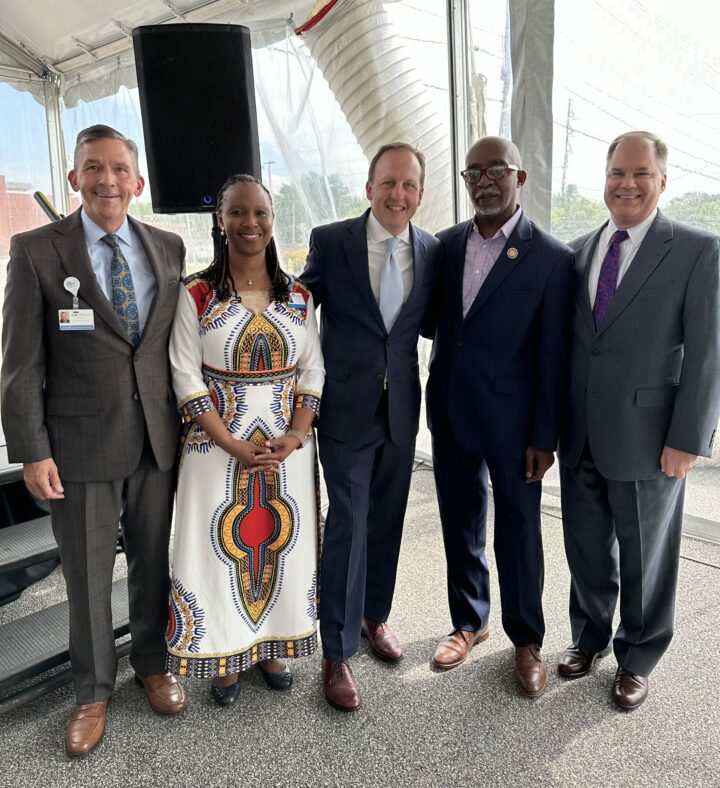 Governor McMaster, South Carolina House Speaker Murrell Smith, Florence Mayor Teresa Myers Ervin and a collaboration of health care organization and university leaders today announced a historic, collaborative investment in South Carolina's behavioral health system in Florence. The governor, speaker and mayor were joined by leaders from the South Carolina Department of Health and Human Services (SCDHHS), South Carolina Department of Mental Health (SCDMH), McLeod Health, the Medical University of South Carolina (MUSC Health) Francis Marion University and HopeHealth to announce the historic investment, which includes a unique combination of state and local funds. The investment includes up to $100 million in state funds appropriated to SCDHHS by the South Carolina General Assembly and $5 million in funding committed by the City of Florence. The city's investment is believed to be the first direct investment of municipal funds in a behavioral health facility by a South Carolina municipality.
The innovative new facility will serve as a regional behavioral health hub and include a combination of triage, crisis stabilization, telehealth, outpatient and inpatient services that will expand much needed behavioral health resources in the Pee Dee region. Once built, the hub will occupy the site of an MUSC-owned property currently known as the Cedar Tower campus on E. Cedar Street in Florence. The project was coordinated through an advisory committee convened by SCDHHS Director Robby Kerr.
"This first-of-its-kind facility is an enormous step forward in addressing the current and future needs of South Carolina's behavioral health system," said Governor Henry McMaster. "Through the collaboration of our state's universities, hospital systems, and state agencies, we connect the pipeline between our education system, workforce, and public health needs, leading to improved behavioral health outcomes in our state."
"This type of collaborative effort is the only way to transform the delivery of behavioral health services into a continuum of care that improves efficiency and access to these vital services," Kerr said. "We appreciate the partnership exhibited through this effort, including the financial support provided by the South Carolina General Assembly, and hope to develop a model of care from this innovative new facility that can be used in the other regions of the state."
The state's investment in the project is through funds appropriated by the South Carolina General Assembly after years of work to foster collaboration and secure funding by South Carolina Senator Hugh K. Leatherman. The new facility, whose construction will begin in 2024, will be named after Senator Leatherman. As a first-of-its-kind hub, the collaborative pilot is poised to offer a new model for communities throughout the state to address the growing need for behavioral health services.
"Through historic investment and collaboration, the people of the Pee Dee region will soon have a first-of-its-kind, innovative facility to address the growing need for behavioral health services," said Speaker Murrell Smith. "This new facility will not only serve the people of the region, but also serve as an example to the rest of our state and beyond as an exceptional model of care. I'm appreciative of all the parties who came together to make this transformational aspiration a reality, especially the late Senator Leatherman, whose vision for this far preceded any of our plans."
"This historical collaboration will have a monumental impact on the mental health services which will be more readily available for the Pee Dee area and beyond," said Mayor Ervin. This collaboration will help to create a more comprehensive healthcare hub of the Pee Dee."
"We are excited to partner with these public-private colleagues to make these services available as quickly as possible and have been supportive of finding innovative ways to serve some of our most vulnerable citizens in this way for some time," said David J. Cole, M.D., FACS, MUSC president. "Access to this kind of care is of paramount concern when we consider the economic and societal impact of mental illness, substance abuse and other behavioral health concerns."
"The need and investment are urgent for escalating behavioral health treatment needs and safety," said McLeod Health CEO Donna Isgett. "It will also help reduce over-utilization of the state's emergency rooms for psychiatric patients who need another level of care, as well as focus on bridging the gaps in mental health services for patients of all ages in the Pee Dee."
"Senator Hugh Leatherman had long-envisioned a facility of this type in the Pee Dee region of South Carolina where our health providers and educational institutions would come together collaboratively," said FMU President Fred Carter. "At FMU, we're preparing Psychiatric Mental Health Nurse Practitioners and Doctors of Psychology to provide practitioners needed in this crucial field."
The new facility will include:
A rapid access center to provide walk-in triage and assessment and offer transition to care;
Telepsychiatry services to strengthen access to psychiatric services throughout the region;
Sixteen adult and four adolescent beds for crisis services to rapidly stabilize patients;
Outpatient adult and pediatric behavioral health clinics; and
A 63-bed inpatient psychiatric unit to treat patients needing more acute care, including the transfer of the 23 psychiatric hospital beds at the McLeod Behavioral Health Center in Darlington to the new facility.
"As one of the state's largest community health centers, we have invested significant resources into the integration of a multi-disciplinary behavioral health program, including psychiatrists, psychologists, and behavioral health counselors," said HopeHealth CEO Carl Humphries. "This investment proved to be a critical necessity during the pandemic, when issues like isolation and fear of the unknown lead to larger mental health concerns for our patients."
"Insufficient behavioral health resources is not a problem limited to the Pee Dee region," said South Carolina Department of Mental Health Acting Director Robert M. Bank, M.D. "This partnership between local healthcare systems and state agencies will create a true continuum of behavioral health services so that citizens of the Pee Dee in need receive the right treatment at the right time in their local community. This type of collaboration not only seeks to improve services, but could also serve as a model that could be duplicated elsewhere in the state."